🤩 IT'S COMPETITION TIME 🤩
Monday 17th January is 'Blue Monday' 😒 but Grand Arcade wants to make the day a 'Brighter Monday' 😁
So, we're giving away a 'Hamper of Happiness' to help spread some cheer and take away the stresses of the day. 😘
😍 LIKE the competition post on Facebook
💬 COMMENT  with what makes you #HAPPY
🤗 SHARE the post with friends and family…… sharing is caring 💙
The competition closes at 11.59pm on Sunday 16th January. One winner will be selected at random and announced on Monday 17th January 2022. Winner will be contacted by Grand Arcade.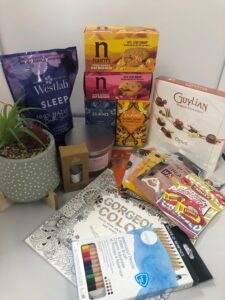 Terms and Conditions
Entries to the competition are via the Grand Arcade Facebook only.
One entry per person.
The Blue Monday competition will be open for entries Wednesday 12th January until 11.59pm on Sunday 16th January 2022.
To enter, like the Facebook competition post, comment what makes you happy and share with friends and family on Facebook
Prize 'Hamper of Happiness' includes Sleep Bath Salts, artificial plant, Pink Peony and Cashmere Candle, Lavender Oil, Face, Hair, Feet & Hand Masks, Carmex Lip Balm, Soothing Colouring Book & colouring pencils and Guylian Belgian Chocolates.
The winners will be contacted via the Facebook account they used to enter the competition on Monday 17th January 2022.
Winners must be available to collect their prize from the Customer Service Desk at Grand Arcade, 23 Crompton Street, Wigan, WN1 1BH.
All entrants must be over the age of 18 to enter.
Prizes cannot be exchanged or transferred.
No cash alternative offered.
Employees of Grand Arcade and their relatives are not permitted to enter this competition.
To be eligible to win the above prizes entrants must follow the instructions on Grand Arcade Shopping Centre Facebook page.
By entering the promotion, you accept these terms and conditions, and agree to participate in any publicity associated with this promotion. If the entrants fail to agree to these terms and conditions, they will be automatically excluded from the promotion.
Details of the competition and prizes are correct at the time of publication but are subject to change without prior notice.
The promoter and partners have arranged this competition in good faith and cannot accept liability in any matter relating to the prizes whatsoever.
The entrant's personal information may be used only by our staff internally, for the purposes of the promotion and will not be passed on to any third parties other than where legally or contractually obliged. Friends tagged/commented as part of the entry requirement will not be contacted.
The Promoters must make available on request the name and county of major prize winners, by entering into the competition you are consenting to this information being publicised. Prize winners will not be compromised by the publication of excessive personal information
The Promoter reserves the right to cancel the competition at any stage. These terms and conditions are governed by English law and subject to the exclusive jurisdiction of the English Courts. If any circumstances out of The Promoter's control mean that the competition prize advertised is not available, The Promoter reserves the right to (without prior notice): (a) cancel the promotion; and or (b) substitute the competition prize for another amount of less value.